TNH: Bringing You the Domestic Renaissance Since 1999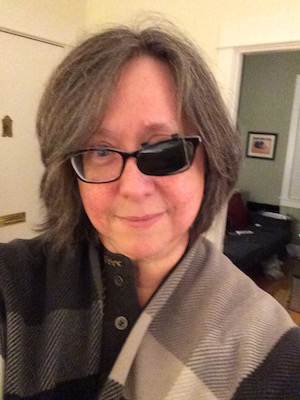 Welcome to the archive of what was once The New Homemaker. I've kept only the most crucial, to my mind and to the hive mind of the internets, articles. (If you'd like to read more recent bits from me, my blog is here.)
They're organized as they always have been by the site's seven topics: Clean and Organized; Family; Healthy Living; Hands at Home; Managing Money; Home Cooking; and Making Connections. No comments are currently allowed on the site; this is an archive.
You see, I had a massive, massive stroke in late 2014, when I was busy rebuilding the site originally. Ninety percent of those who have the kind of stroke I had (an IVH) die. I lived. That's me in the photo to the right, as of December, 2016. It's now mid-2017; I look about the same.
It took me two and a half years to come back to the site. In that time, the internet finally caught up with my former self, and I'm finally finished now.
I'm sorry if your favorite comment was lost. This is the best I could do. Adding on to things is difficult for me.
The original page, updated sorta kinda: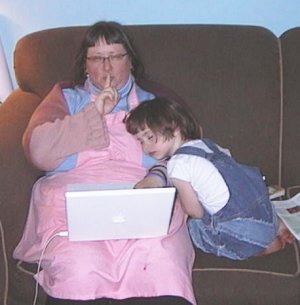 Hi! My name's Lynn and I'm the Editor of The New Homemaker. I became a stay-at-home mom in 1997 with the birth of my first daughter, Josie. That's me with my second daughter, Louisa, age three. As of this edit in 2017, Lou is 16, and Josie is almost 20!
I started this site in 1999--almost 20 years ago!--when I couldn't find the resources I needed without a hefty dose of, frankly, anti-woman propaganda along with it. I am a feminist. I choose this stay-at-home life because it's the best choice for me and for my family, not because I'm incapable of anything else or because God told me to.
Practical Advice for Stay-at-Home Moms
So what was I looking for? The practical advice and resources that will further the rebirth of the household arts--the Domestic Renaissance as I like to think of it. TNH has grown into that resource.
I do this not because I'm an expert. Quite the opposite. I do this because this is a place I need myself. And the readers here are helping build it, so that we can all help each other as we re-establish the hearth fires that have very nearly burned out across this country, to its detriment.
Feel free to contact me: editor@newhomemaker.com.
All the Very, Very Best,
Lynn
More ranting: TNH Manifesto
TNH logo designed by Mitchell Gore